Early start and early fixing! Wowbagger learned soft obstacles and barrels!
For pictures look inside

Nach zwei Runs und drei Opfern können wir beruight aufatmen, Wowbagger hat eine unglaubliche Leistung vollbracht!
Keine einzigen Fehldetektionen und mehr als genügend Zeit um die ganze gelbe Arena zu durchqueren. So schaut's aus =)
Two runs and three victims later everyone of our team is proud of Wowbaggers performance!
No false victims at all and enough time to travel through the hole yellow arena. This is how it should be =)
Unser erster Run ist vorrüber, leider mit einem etwas müsigem Resultat.
Wowbagger war außergewöhnlich stark irritiert von den Massen an Zuschauern.
Auch der Grip unseres Kettenroboters macht uns zu schaffen, manchmal wirkt es als würde eine Skifahrer auf einer Eisfläche fahren.
Zumindest konnten einige QR-Codes detektiert werden, jedenfalls hat unser Team nun einiges an Arbeit…
First run is over and Wowbagger was unhappily confused.
A lot of problems with too many visitors in sight.
The grip of the robot could not be worse, its like a skiing person on ice!
We managed to find some QR codes but the team has several things to do now…
Neue Impressionen vom RoboCup! Unser motiviertes Team

Wir freuen uns schon auf unseren ersten Run um 11:00 Uhr.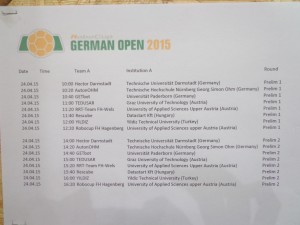 New impressions from the RoboCup German Open! Team Tedusar is motivated! We look forward to our first run at 11:00 o'clock.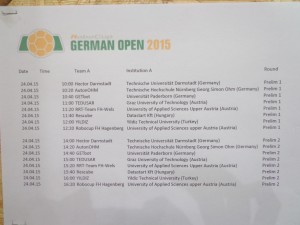 Das Kartographieren konnten wir gestern ausreichend testen, Wowbagger hat sogar probiert über das berüchtigte Stepfield zu navigieren!
(Das mag zwar etwas gefährlich anmuten aber Wowbagger war sich der Gefahr vollkommen bewusst.)
In einem Bild kann man sehen, wie schwierig es manchmal ist, den Roboter zu testen (behind-the-scenes shot

).
Die Gestern erwähnten "starren" und "nachgiebigen" Hindernisse können wiederum auf einem der anderen Bilder gesehen werden.
Dort befindet sich eine Stange, an der weiße Leinen herunter hängen, die den Roboter verwirren sollen.
Yesterday, the exploration worked quite well, Wowbagger even tried to deal with the step field!
(Looks dangerous, but Wowbagger was aware of the threat.) In one of the pictures, you can see how the team has somehow a hard time to test the robot (behind-the-scenes shot

). Remember the new soft and rigid obstacles? In one image, the soft obstacle can be seen with some white stripes hanging from above, trying to confuse the robot.
Zu dieser späten Stunde arbeitet unser Team immer noch eifrig an Neuerungen.
Es gibt neue Regeln, die es einem Roboter nicht unbedingt leichter machen, die Arena zu erkunden.
Zwei neue Hindernistypen müssen unterschieden werden – "Starre" und "Nachgiebige".
Diese versperren den Weg und bei erfolgreicher Erkennung kann der Roboter sich für den leichteren Weg entscheiden.
Außerdem gibt es dadurch zusätzliche Punkte zu gewinnen.
Diese Regelerweiterung macht den autonomen Part im Berwerb um einiges spannender!